Studio Policies & Procedures
Our dance season runs from September 13th, 2021-May 29th, 2022. WDC policies and Dance Safe Protocols have been updated for the 2021/2022 season. Please take the time to read through carefully before registering. By registering with Whitby Dance Company Ltd. (whether online or in person), you have acknowledged and accepted understanding of Whitby Dance Company's policies as outlined in this document below.
Due to COVID -19 our classes will look a little different this season due to social distancing and other government regulations.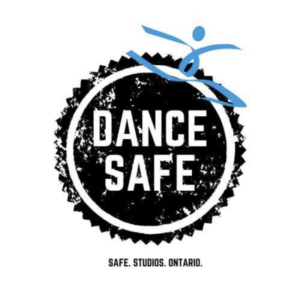 Whitby Dance Company's Covid-19 Protocols.
Health and Safety
The studio floors will be marked with personal dancer squares to make social distancing clear and easy for our students. We will be increasing our daily cleaning procedures, the studio will be equipped with hand sanitizer in each studio, the office and waiting areas. Both studios have HEPA air filters, and we have purchased two state of the art sanitizing fog sprayers that will be used before and after each class to provide a clean virus free environment. As safety is our top priority, the fog sprayers use a government approved all-natural Antibacterial/Antimicrobial solution which is eco-friendly, 100% organic, biodegradable and non toxic.
Social distancing measures will be put in place throughout the building including within the classes. The studios will be equipped with signage and there will be staff to guide you in our protocols.
The studio waiting area will have limited access (for drop off and pick up only). With our new studio/waiting area social distancing protocols and for the safety of all patrons entering the medical building, only dancers and staff will be permitted into the waiting area/studio during class time. Parent/guardian will be asked to leave the building after drop off and arrive back at their scheduled ending time. Please note as we need to fully sanitize the space in between classes we strongly advise that you arrive on time for pickup.
Parent/Guardian(s) will be able to live stream their dancers class through our secure video delivery system: My Digital Dance Studio. You can flawlessly view live classes from the parking lot, coffee shop or anywhere else on the app from any device. If a student is unable to make class, they can still see and participate remotely. Each class will have a specific login code for their class time slot only. This will be set up with the parent/guardian email address on file – and only approved email addresses can access viewing the class.
Sick Policy
Due to the new environment that we are under, no one will be allowed in the studio if presenting with any sort of illness.  Dancers must stay home if they are sick, for the health and safety of our community. If your child has any new or worsening symptoms, they must stay home, self-isolate, and get tested or contact their health care provider, even if the symptom has resolved. Any student coming to dance with any illness will be sent home. 
Please ensure you self screen before coming to class. Does your child have any of the following symptoms prior to entering the studio (even mild symptoms) ?
– Fever
– Cough
– Difficulty breathing
– Decrease or loss of taste or smell
– Sore throat, painful swallowing
– Stuffy/runny nose
– Nausea, Vomiting, diarrhea
– Headache
– Feeling unwell, muscle aches, tired
A dancer should be excluded from class, under the following conditions:
(A)  If the child has one or more symptoms, even if it is mild or has resolved, the child should stay home,
self-isolate, and get tested or contact their health care provider for further instructions.
(B)  If anyone in the child's household has one or more of the above symptoms the child should also stay home, self-isolate and follow instructions from public health.
(C)  If the child has been in close contact with a person who has COVID-19 they will need to stay home and self-isolate for 14 days, even if they don't have symptoms.
(D)  If the child has travelled outside of Canada they must self-isolate for 14 days.
Mandated Studio Closure
In the event of imposed government restrictions, classes will be maintained via a virtual platform and fee structures will remain in place. 
Studio Waiver And Photo Release
We will do our best to ensure the safety of the dancers and their guardians. Due to the physical nature of dance, Whitby Dance Company Ltd. and all of its employees, contractors and sub-contractors will not be held responsible for any claims, damages and expenses in respect to injury or damage to a child/persons or property however caused which may result from participation in dance class or any performances and event. Studio waiver must be signed before classes begin.
By signing the waiver, it includes the Photo and Video Release which means you give permission for Whitby Dance Company Ltd. to use your child's photograph and video that has been taken by Whitby Dance Company Ltd. employees, contractors and subcontractors for its use in advertising and promotion.
Tuition Payment
For class registration it is highly recommended to sign up for our automatic payment plan (Visa/MasterCard or Post-Dated Cheques will be accepted). Two payment options available:
One Installment: Full tuition is paid at time of registration in one installment.
Five Installments: Full tuition amount divided into 5 equal installments, is due at time of registration, November 1st, January 1st, March 1st and May 1st.
Registration Fee
A $25/Student or $40/Family non-refundable registration fee is required upon registration.
Late Payments
We require a credit card to be put on file in your account. A late fee of $10 will be added onto your balance by the 7th of the month. If no payment is made by the 10th of the month, your credit card will be charged your account balance which would include any fees. A $20 fee will be charged for any returned cheques. If over the course of the season two cheques are returned then the remaining balance must be paid in full by visa, cash or certified cheque to keep enrolment.
Discounts
Full payment, siblings and multi-class discounts available.
Late Start Policy
Students who enrol after the start date of a term will pay the full instalment but will be given the opportunity for make-up classes to equal the number of classes missed in the session. We do not pro-rate for missed classes due to late registration. In the case where there are fewer than half of the number classes remaining in the instalment term, a drop-in fee will charged per class at the current drop-in rate.
Withdrawal / Refund Policy
All withdrawals must be submitted via email to info@whitbydance.com. This email will determine the official withdrawal date. 30 days written notice will be required when a student is withdrawing from a class and can only be done so prior to December 1st, 2021, otherwise parent/guardian will be responsible for the remainder of the years tuition. Registration fee ($25/Student or $45/Family) and any costume payments made will not be refunded.
In Studio Camp & Summer Evening Class Refund Policy
In Studio Camp/Summer Class Refund Policy: Full tuition is due upon registration – If you decide to cancel your summer enrolment before April 30th, you will receive a refund minus a $50.00 cancellation fee for camps OR a $25 cancellation fee for evening classes. If you decide to cancel summer enrolment between Mar 1st and June 30th you will receive a refund of 50%. Any cancellations after July 1st will not receive a refund.
In Studio Winter Break/March Break Camp Refund Policy: Full Tuition is due upon registration – If you decide to cancel your enrolment 30-days prior to the first day of camp, you will receive a refund of 50%. Any cancelations after 30-days prior will not receive a refund.
Withdrawal Due To Injury
Refunds/credits will be decided on a case-by-case basis. General guidelines: If a dancer has a serious injury (e.g. broken foot) which prevents them from continuing for the rest of the year, a refund will be granted from the day we are notified. If a lesser injury occurs (e.g. sprained wrist) no refunds will be granted as we encourage the dancer to attend and observe until the injury is healed. Even when a dancer can not fully participate, it is recommended they continue to attend and observe if they intend to start again after healed so that they are able to pick up more easily.
Student Absences
No refunds are given for student absences. An email is required to be sent at least 24 hours in advance to info@whitbydance.com if the student will be absent for a dance class or private class in order to receive a make-up lesson.
Cancelled Classes
We reserve the right to cancel a class due to low enrolment. You will be given a full refund or option to transfer into another class for any cancelled classes due to this reason.
Inclement Weather
On occasion, classes may be cancelled due to poor weather conditions or circumstances beyond our control (e.g. extended power outage). We will do our best to contact you in advance, but if you are in doubt, please call the studio or check our social media pages. A message on our voicemail will let you know if classes are cancelled. We are unable to offer refunds or make up classes for the ones cancelled due to circumstances we can not control.
Recital Costume Fees
A non-refundable costume payment is required for recreational students and will be due January 1st, 2022. $135 per costume/$185 for Saturday Mini Combo. Prices are subject to HST. 
2022 Year End Recital
DATE TBD. As Government regulations are released we will provide more details on what our year end performance will entail. 
Newsletters And Studio Announcements
All newsletters and information sheets will be sent monthly via email. Please make sure that info@whitbydance.com is on your safe list so the newsletters don't go to your junk mail folder.  It is important that you read these messages as they contain vital information regarding the studio. If you do not hear from us, please verify that we have the correct email address on file.
Student Code Of Conduct
The Whitby Dance Company Student Code of Conduct outlines our expectations for Etiquette, Cellphones and Technology, Respect for Others and Bullying, Discrimination and Exclusion. The goal of the WDC Student Code of Conduct is to help students, teachers and families create an environment that is supportive, encouraging and promotes growth and learning.  Teachers will go over the Student Code of Conduct during the first week of classes.  If dancers choose to not follow the Student Code of Conduct, they may be asked to leave the studio.
View the WDC Student Code Of Conduct Here.
Social Media
Students are expected to maintain integrity when posting online. Whitby Dance Company Ltd. has a Zero Tolerance Policy for bullying of any sorts and that includes online. Any students who slander any other students or the studio either online or in person will be dismissed immediately.
When using Social Media we ask you to adhere to our confidentiality policies at all times (no identifying information should be given). No choreography, class content or instruction of any form should be posted on social media or online without the prior approval of the instructor and management of WDC.
We thank you for your cooperation in adhering to theses policies. We look forward to another great year!