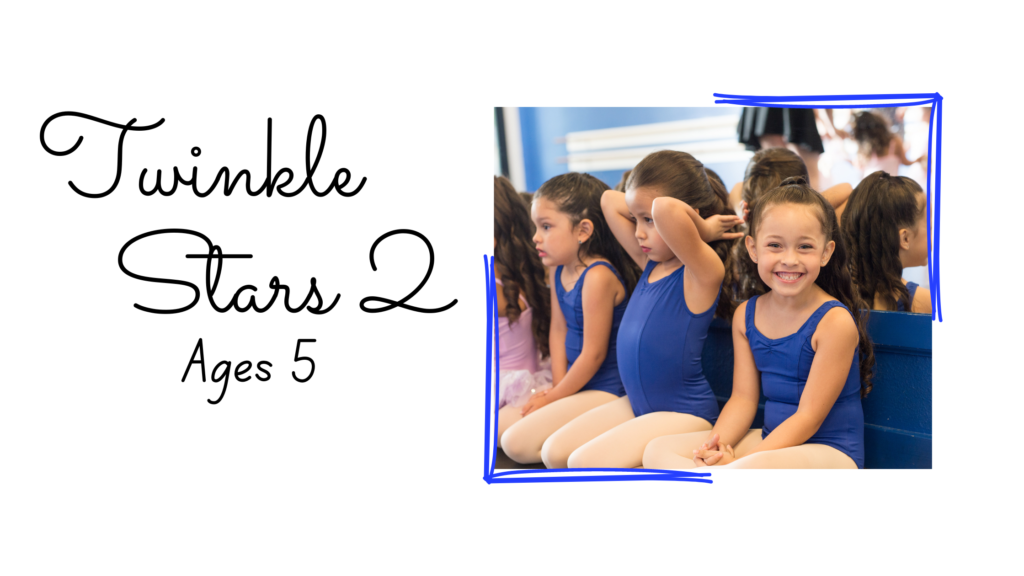 Class Descriptions & Attire
TWINKLE STARS 2
An age specific 45 minute class containing ballet, tap and jazz/creative movement. The purpose of the class is to introduce young dancers to the three styles of dance and inspire movement and creativity within a positive environment. Dancers will also learn basic steps and terminology in all three styles. For example, all dancers will learn what a "plie" is and how to demonstrate one. The use of fun, age appropriate music engages the young dancers' minds and bodies. The use of props such as hula hoops for the "freeze dance" makes the end of class the most fun! Placement Notes: Twinkle Stars Dance 3-4 students must be at least 3 1/2 years old.
SHOE REQUIREMENTS (NOT INCLUDED IN KIT)
Girls: Pink Capezio Lily Ballet Shoe (212C) and Beige Capezio Mary Jane Tap Shoe (3800C).
Boys: Black So Danca Stretch Ballet Shoe (SD16S) and Black Capezio Lace-Up Tap Shoe (CG19C).
TWINKLE STARS KIT (PROVIDED BY WDC)
Girls:
Blue Twinkle Babies Bodysuit/Tutu
Pink Ballet Tights
Twinkle Bear
Blue Matching Outfit for Twinkle Bear
Blue Carrying Case
Boys:
White T_Shirt
Black Shorts
Twinkle Bear
Suit for Twinkle Bear
Carrying Case
TWINKLE STARS 2 ACRO
Elements of gymnastics are used in conjunction with jazz or lyrical dance styles. Students will be focusing on flexibility, control and execution of different tricks, balancing positions, and tumbling.
ATTIRE/SHOES/HAIR
Girls:
Black leotard, tan footless or stirrup tights, black shorts/dance pants/capris optional.
Bare feet.
Hair in low bun.
Boys:
Black/white fitted t-shirt with black fitted shorts.
Bare feet.
TWINKLE STARS 2 MUSICAL THEATRE
Musical theatre classes are a combination of theatre, dance and drama! Focusing on acting out the story through movement, body language and facial expressions. Great for letting your personality shine!
ATTIRE/SHOES/HAIR
Girls:
Blue Twinkle Stars Bodysuit/Tutu, tan tights, black shorts or dance pants.
Beige Capezio Jazz Shoes (EJ2C)
Hair in low pont or bun
Boys:
Black shorts, fitted white or black t-shirt.
Black Bloch Jazz Shoes (S0499T/S0499C).
Class Schedule